Old Growth Figured Californian Redwood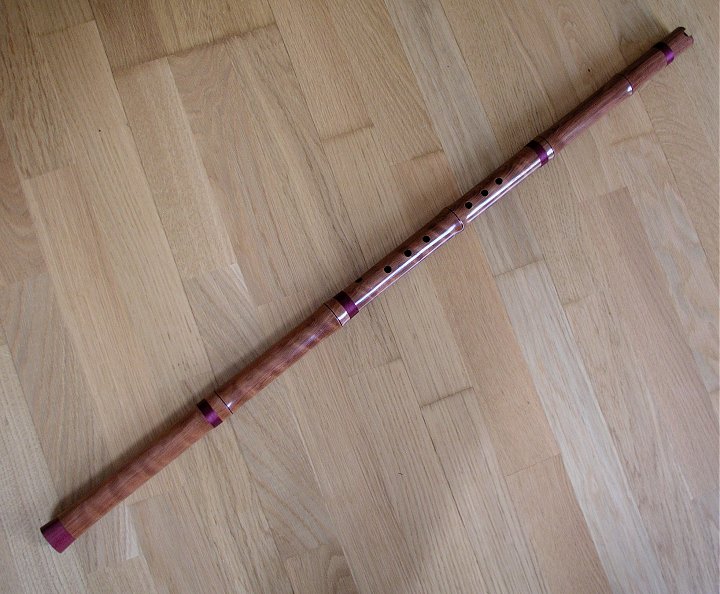 Click on images for larger view.
Available in both the key of F and the key of G
| | |
| --- | --- |
| | Sound clip of a Xiao being played by Master Xiao player, Mr. Gary Stroutsos (from his album 'Within You, Without You'. Album produced by William Hoshal) |
Specifications

Wood Species

Old Growth Figured Californian Redwood

End Cap/Node

Purpleheart

Binding

Lacquered Thread

Length

Traditional 36 inches (approximately) for key of F

Tuning

Concert at 72 degrees. A4=440 Hz. 8 hole (7 finger and 1 thumb) in the Traditional keys of F and G. Capable of playing notes in the second and third octaves and above. 6 (3 pairs of 2) Traditional Tuning/Breathing holes. Note to Native American Flute players: The fundamental note of the Xiao in the key of F is 'Low C (C4)'. The fundamental note of the Xiao in the key of G is 'Low D (D4)'.

Click here for tuning charts Click here for music scores and fun to play with MP3 backing tracks
Dear Vance,

Thank you! I picked the flutes up this morning at the Post Office. I'm one happy flute player! The Xiao is exquisite, I expected a top quality instrument and you exceeded my expectations. What a beautiful flute, the figured redwood is gorgeous. And what can I say about the Bansuri, it's exactly what I was looking for, with proper care it will last me a lifetime. I definately see a larger Bansuri from you in the future, once I've replenished my flute piggy bank. Thanks again Vance for you stellar craftmanship and exquisite flutes.

Warmest regards,
Bill

Important:
The instrument used to illustrate this page has been created for RIGHT handed players who use their RIGHT hand to cover the lowest four fingering holes. This instrument is also created for LEFT handed players who use their LEFT hand to cover the lowest fingering holes. Please select your choice of LEFT or RIGHT handed from the drop down menu below.
Price : $550.00
plus Shipping and Insurance for Contigious United States.

International Orders: Contact us for Shipping and Insurance costs..