Xiao Information and Resources

The very first hand crafted 8 hole Professional Xiao produced in the USA. Designed & created by renowned flute maker Vance Pennington. Guaranteed not to Split!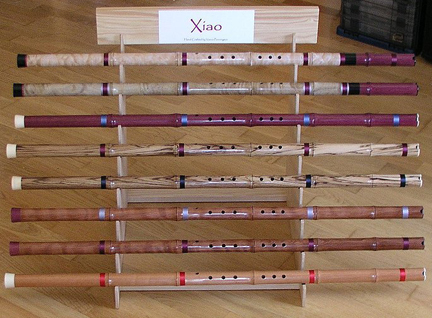 About the Xiao
The Xiao (pronounced 'show' as in 'shower) originated in China some five thousand years ago and is well known today not only for its beautiful sound and haunting music but for its huge range of playable notes. It is truly a remarkable and versatile instrument that has stood the test of time and is one that is steeped in various traditions. However, one of these traditions has proven to be detrimental to the instrument because of 'splitting' but despite that, the Xiao from China continues to be created from Purple Bamboo.

Over the years I have had many imported Chinese bamboo Xiaos and bamboo/cane flutes sent to me for repair because of splitting. Along with these rerquests for repair I was asked if I could create a Xiao, and othert instruments, from a natural material other than traditional bamboo/cane.

Creating a 'new' Xiao called for selecting woods that are strong, durable and free from the defects of bamboo/cane. Realizing that the creation of such an instrument would be more costly and complex than the relatively simple and inexpensively produced Bamboo Xiao I decided to go ahead with the view that quality was far more important than producing a cheap copy. So, after a lot of research, study and testing I created my first Xiaos from woods that I know not only matches the tonal qualities of the Purple Bamboo Xiao but improves them. 

There are several advantages to creating this instrument from a natural material other than bamboo. One is that an accurate bore size can be created and the body can be fashioned to a thickness that allows for precise fingering hole placement. The result is not only a perfectly, beautifully sounding flute but an instrument that has an accuracy of tuning that surpasses any of its kind.

Appreciating the knowledge that there are many rules laid down by Mother Nature that need to be followed in order to create the best of instruments, I create my Xiaos in a way that allows Her to do what She needs to do when an instrument of this kind is played.

Whilst designing my Xiaos, some traditions of the Chinese Purple Bamboo Xiao have been represented by the flared end cap at the foot of the flute, by lacquered chord binding - for decorative purposes. The flute has also been fashioned to represent the flowing shape of bamboo.

Guaranteed, under normal circumstances, not to split, these instrument will last you a life time, with the minimum amount of maintenance, and is a must for every flute player's collection.


Click on images for larger view.
| | |
| --- | --- |
| | Sound clip of a Xiao being played by Master Xiao player, Mr. Gary Stroutsos (from his album 'Within You, Without You'. Album produced by William Hoshal) |
Useful Resources


Xiao Fingering chart
 -
The fingering charts shows standard fingerings for the major scale tones over the two lower octaves for the 8-hole flutes. Please note the altissimo register should not be attempted until the lower and upper octaves can be sounded with consistent volume and tone color.
Xiao Music
- 
This music page offers you song Tablature, the complete song to play along with to learn your part and then a backing track for you to be presented as the solo performer.