Cedrela Xiao (China)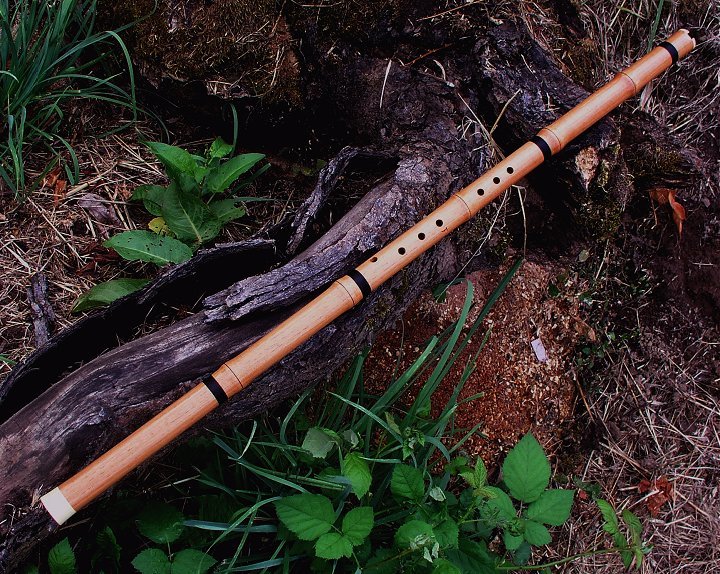 Also available with alternative colored thread binding (see below)
and in both the key of F and the key of G
Click on image for larger view.
| | |
| --- | --- |
| | Sound clip of a Xiao being played by Master Xiao player, Mr. Gary Stroutsos (from his album 'Within You, Without You'. Album produced by William Hoshal) |
Message received from some valued customers:
Vance;

Just wanted you to know that I picked up the Chinese Xiao Flute that you made for me. The flute is wonderful and it sounds great. I have a couple of Anasazi Flutes as well and I am able to hit notes on the Xiao much easier. I look forward to learning the Xiao Flute very much.

Believe it or not, I always thought I would order a N.A.F. from you first but when I saw the Xiao I couldn't resist. I've grown an interest in leaning wind instruments from around the world and am trying to obtain Chinese Dizi Flutes, Bansuri Flutes from India, and flutes with Middle Eastern Tuning. Probably will still get a NAF, or two, from you in the future. If I can make it to the flute festival in September, Northern California, I will stop by and see you.

Take care for now and just wanted you to know how much I enjoy the flute. Music helps calm my soul when I return from operations overseas and helps me maintain my humanity. Your craftsmanship is exquisite.

Peace be with you always;
Gary A.


---
Hello Vance ~
I received the Xiao yesterday in good shape. Beautiful piece of work and good sound too. It will be fun to have a Xiao that I can take camping or down to the coast and know with respectful care it will do just fine. Thanks for the quick delivery too ~ I was set to wait longer.

Best regards ~
Patricia P.
---
(Cedrela Xiao) Thanks again for the lovely instrument. You are truly a master.

Ken K. (Musician)
| | | | | | |
| --- | --- | --- | --- | --- | --- |
| Black | Light Blue | Burgundy | Navy Blue | Grey | Red |
Please make your thread color selection when ordering
Specifications

Wood Species

*Cedrela

End Cap/Node

Hollywood

Binding

Lacquered Thread

Length

Traditional 36 inches (approximately) for key of F

Tuning
*Cedrela is a genus of seven species in the mahogany family Meliaceae. They are evergreen or dry-season deciduous trees with pinnate leaves, native to the tropical and subtropical New World, from southern Mexico south to northern Argentina. The name is derived from a diminutive form of Cedrus.
Important:

 The instrument used to illustrate this page has been created for RIGHT handed players who use their RIGHT hand to cover the lowest four fingering holes. This instrument is also created for LEFT handed players who use their LEFT hand to cover the lowest fingering holes. Please select your choice of LEFT or RIGHT handed from the drop down menu below.